Maui Locals Team to Study, Name Unknown Number of Orange Safety Cones on Island
Image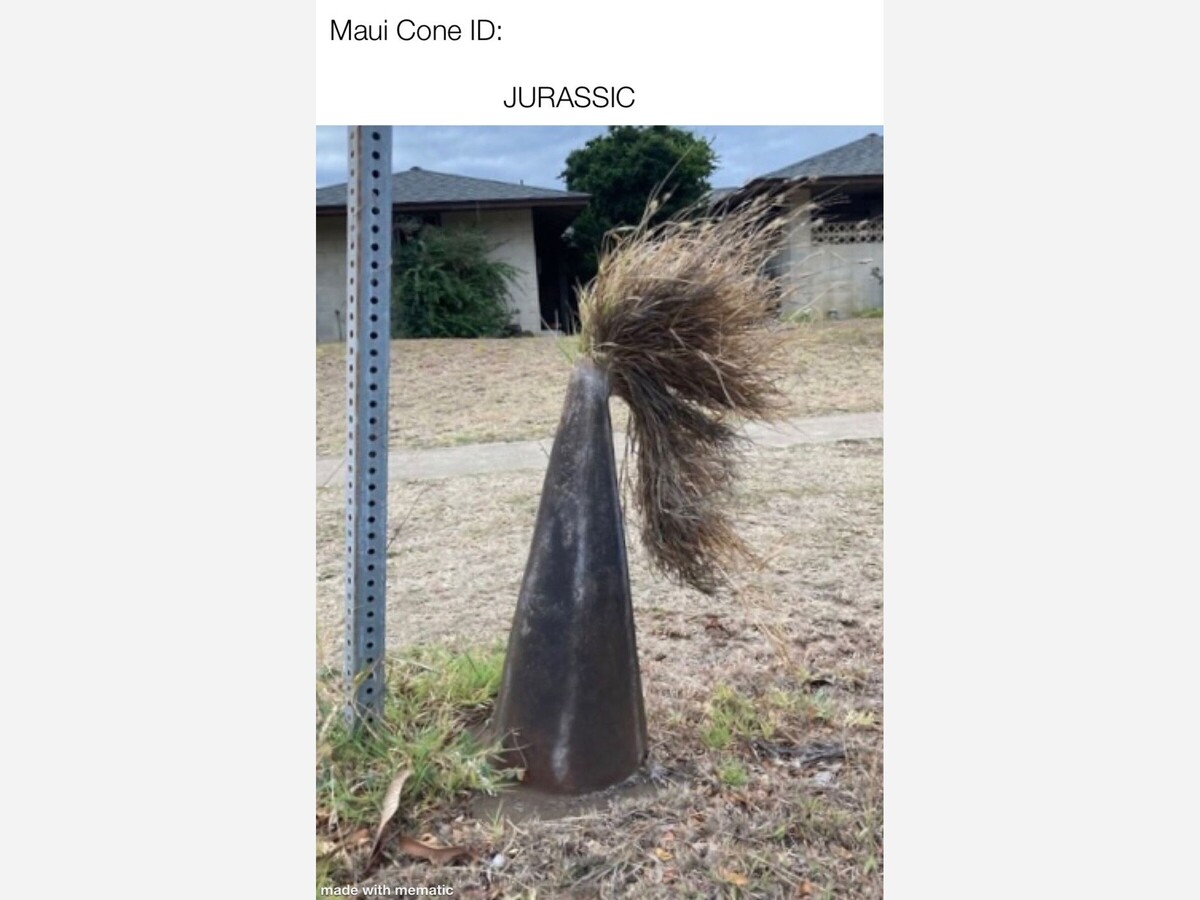 A newly formed group of aspiring sociologists from Maui are spending 9 months studying ~ and naming ~ the types and groupings of orange rubber safety cones all over the island.
The cones, which can be seen pretty much anywhere on island except maybe atop Haleakala or around the new roundabout in Kihei, gained the interest of locals when very old orange cones were discovered in Kahului earlier this year.
"We met on Nextdoor and realized we all had a keen interest in some of the social phenomena we see driving around Maui," said Irma Godinez of Kahului. "We applied for a grant and somehow attracted interest from mainland university sociologists."
The Academy of American Urban Social Trends, a nonprofit run out if the University of Oregon, approved a $50,000 grant for the 5 Maui residents to dig in on their orange cone proposal.
"People across America are unaware of what you can determine about a community just by what you see on roads and sidewalks, and in yards," said Olga Heinz-Muller, associate dean of sociology at the university.
Heinz-Muller is co-founder of the Urban Social Trends organization, which raises funds and provides grants for communities to study junk and things left out in the open around them.
On Maui, that means either Toyota trucks, abandoned burned-out cars on the sides of highways, or … orange rubber cones.
The Maui group is calling itself Coneheads U., after the old Saturday Night Live comedy skit.
"We thought Irma kind of looked like Jane Curtin, and she even has a kind of pointy head," said Diana Menginhouse of Wailuku. "We even painted her face orange and stuck a ring of reflective tape around her neck for Halloween."
So far the group had identified about a dozen types of orange safety cones, or patterns that cones are often seen in public usage.
Among their findings so far:
Jurassic Cone, named after the ancient cone with a mohawk of grass growing through its top hole, estimated to have been sitting in the same Kahului spot since the 1980s.
Chain Gang, when residents line up a large number of orange cones along a long strip of a neighborhood block, usually to deter cars from parking on parkways.
OGs, old and wore-out orange cones.
Con Cones, orange cones placed behind fences or otherwise locked up outside for no apparent reason.
The Rookie, an orange rubber cone that looks brand new (which is very rare on Maui).
The Formation, when cones are aligned in an organized but rather bizarre fashion, like a football play set by drunk guys.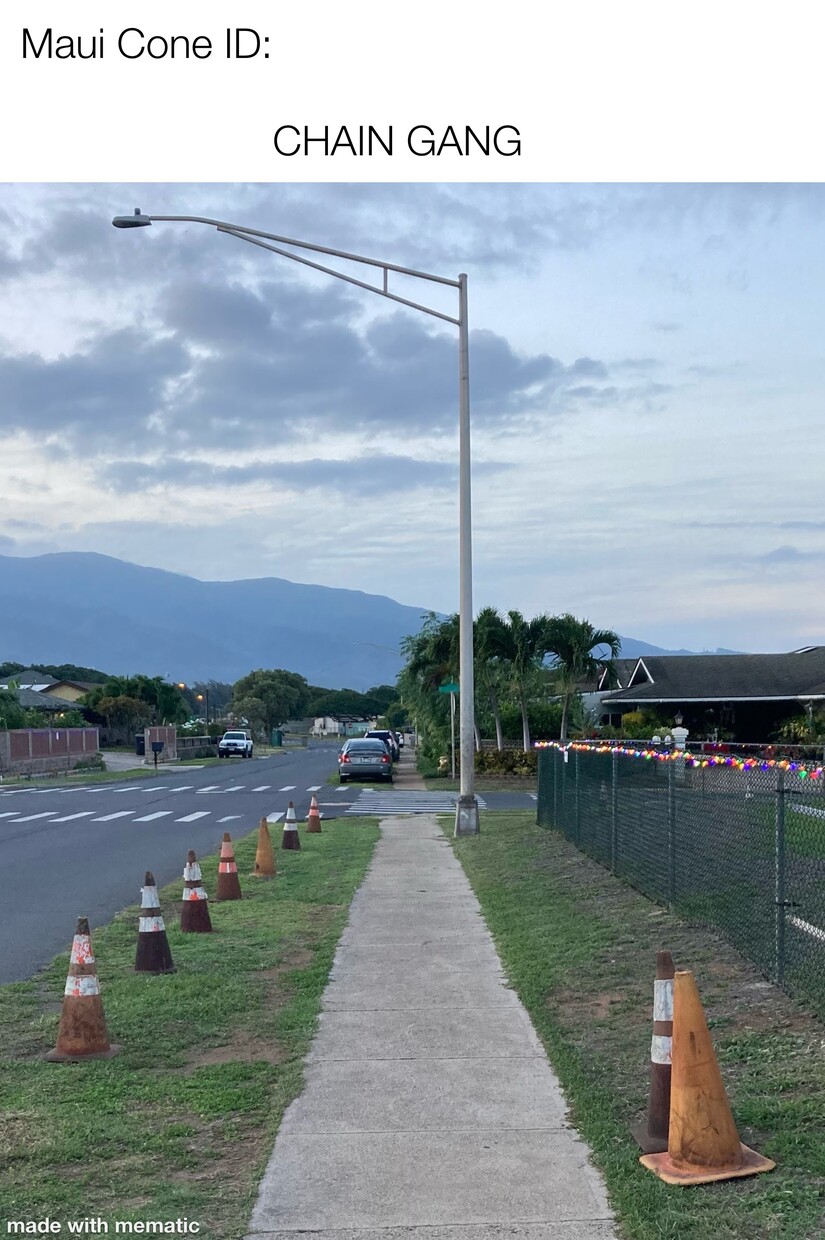 Coneheads U. are about halfway through with their work, and expect to find many more types and groups in the months ahead.
"We haven't even hit Road to Hana yet, nor have had a chance to peek into back yards or empty fields in Hana," Menginhouse said. "We're very excited about Haiku, the north coast, and East Maui. We're confident that we're going to find the Holy Grail of orange rubber cones out there."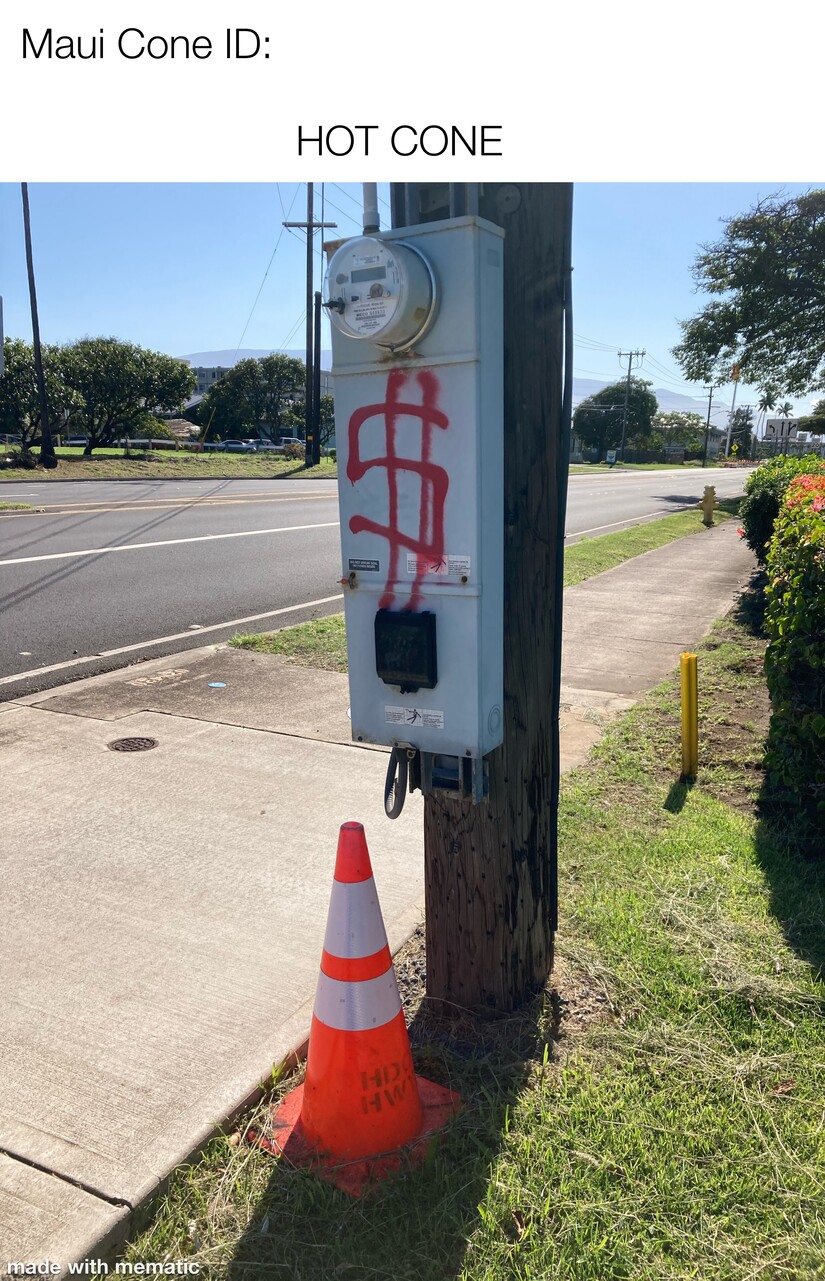 ---
---
To see updated cone-namings from Coneheads U., please visit the Maui Insight Facebook group.